Prisoner 690 -Tales from a dark place
Antonio, born in 1962 in Havanna, is a member of the movement Movimiento Cristiano Liberación. In the book, he gives the reader a real and deep insight into the circumstances and risks that comes with engagement for democracy in Cuba today. An engagement for which he was imprisoned in March 2003.
PYPA: Program for Young Politicians in Africa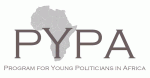 Three Swedish affiliated organisations –the Christian Democratic International Center (KIC), the Olof Palme International Center (OPC – Social Democrats) and the Centre Party International Foundation (CIS) developed the training program Program for Young Politicians in Africa – PYPA.